Published Books
---

Outsiders No More? Models of Immigrant Political Incorporation
Jennifer Hochschild, Jacqueline Chattopadhyay, Claudine Gay, & Michael Jones-Correa.
Oxford University Press, 2013

Gambling and War: Risk, Reward, and Chance in International Conflict
Justin Conrad
Naval Institute Press, 2017

Middle-Class Meltdown in America: Causes, Consequences, and Remedies
Kevin Leicht & Scott T. Fitzgerald Routledge Press, 2014

Congressional Parties, Institutional Ambition, and the Financing of Majority Control
Eric S. Heberlig & Bruce A. Larson
University of Michigan Press, 2012
Winner of the 2014 D. B. Hardeman prize for the best book on the U.S. Congress by the LBJ Foundation.

How the Government Got in Your Backyard: Superweeds, Frankenfoods, Lawn Wars and the (Nonpartisan) Truth About Environmental Policies
Jeffrey H. Gillman & Eric S. Heberlig Portland: Timber Press, 2011

Institutions and the Right to Vote in America
Martha Kropf
Palgrave/Macmillan, 2016

Helping America Vote: The Limits of Election Reform
Martha Kropf & David C. Kimball
. New York: Routledge, 2012

American Cities and the politics of party conventions
Eric Heberlig, Suzanne Leland, & David Swindell
Albany, NY: SUNY Albany Press, 2017

City-county consolidation: Promises made, promises kept?
Suzanne Leland & Kurt Thurmaier
Washington DC: Georgetown University Press, 2010

Case studies of city-county consolidation: Reshaping the local government landscape
Suzanne Leland & Kurt Thurmaier
New York, NY: Routledge, 2004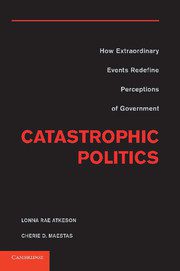 Catastrophic Politics: How Extraordinary Events Redefine Perceptions of Government
Cherie D. Maestas & Lonna Rae Atkeson
Cambridge University Press, 2012

Yesterday, Today, and Tomorrow. School Desegregation and Resegregation in Charlotte.
Edited by Roslyn Arlin Mickelson, Stephen Samuel Smith, & Amy Hawn Nelson 2015. Cambridge, MA: Harvard Education Press.
​

Occupational Labor Shortages: Concepts, Causes, Consequences, and Cures
Burt Barnow, John Trutko & Jaclyn Piatak
(2013) Kalamazoo, MI: Upjohn.

A Handbook for the Study of Mental Health: Social Contexts, Theories and Systems
Teresa Scheid & Tony Brown (Editors)
NEW YORK: CAMBRIDGE UNIVERSITY PRESS 2010

Emerging Trends in Drug Use and Distribution
David Khey, John Stogner, & Bryan Miller
Springer Science & Business Media, 2013
​

The View from the Bench and Chambers: Examining Judicial Process and Decision Making on the U.S. Courts of Appeals
John Szmer, Jennifer Barnes Bowie, and Donald Songer
UVA Press, 2014

Drones and Support for the Use of Force
James Igoe Walsh & Marcus Schulzke.
2018. Ann Arbor: The University of Michigan Press.

International Politics of Intelligence Sharing.
James Igoe Walsh
2010. New York: Columbia University Press.
Named "Choice Outstanding Academic Title" for 2010.
Featured in: The Atlantic, Washington Post, Quartz, The Briefing, Security Management, Remote Warfare Project. Reviewed in: International Studies Review, Journal of Common Market Studies, Perspectives on Politics, Studies in Intelligence, Military Review, Political Science Quarterly, Politique Etrangère.

European Monetary Integration and Domestic Politics
James Igoe Walsh
2000. Boulder: Lynne Rienner
Reviewed in: Foreign Affairs, Contemporary European History, European Union Studies Association Review, West European Politics